Joyce W. Moore and Christian S. Kelso article1 in Estate Planning Journal focuses on thorny wills issues under Texas law,2 and tries to answer them.3 The article is especially useful to Texas lawyers, and it is also an excellent guide for questions that attorneys in other states need to try to answer according the laws of their jurisdictions.4
Notes on the Footnotes5
The article has 512 footnotes.6 Every sentence has a footnote,7 which is something I haven't seen before. Below are a few curious examples.8
There are footnotes explaining that the author is making thanking someone.9 For example:
The authors would like to thank their families for putting up with them while putting this Article together.(1)

(fn1) Author's acknowledgments.
Several footnotes signal an original thought.10 For example:
Writing about trusts and estates cases can be difficult.(16)

(fn16) Author's original thought.
At least one footnote explains that the statement is the author's original opinion:11
Other areas of the law lack the plethora of opportunities to distinguish rules based on factual minutiae.(26)

(fn26) Author's original opinion.
Reading footnotes like this made me smile,12 and then it made me wonder:13 Since the article has two authors,14 which one had the original opinion and the original thought?15 Did both of them have it while talking together?16 Furthermore, whose idea was it to have a footnote for every sentence?17
Another question I had is why didn't the authors use "Id." more often -- for example, instead of repeating "Author's original hypothetical."?18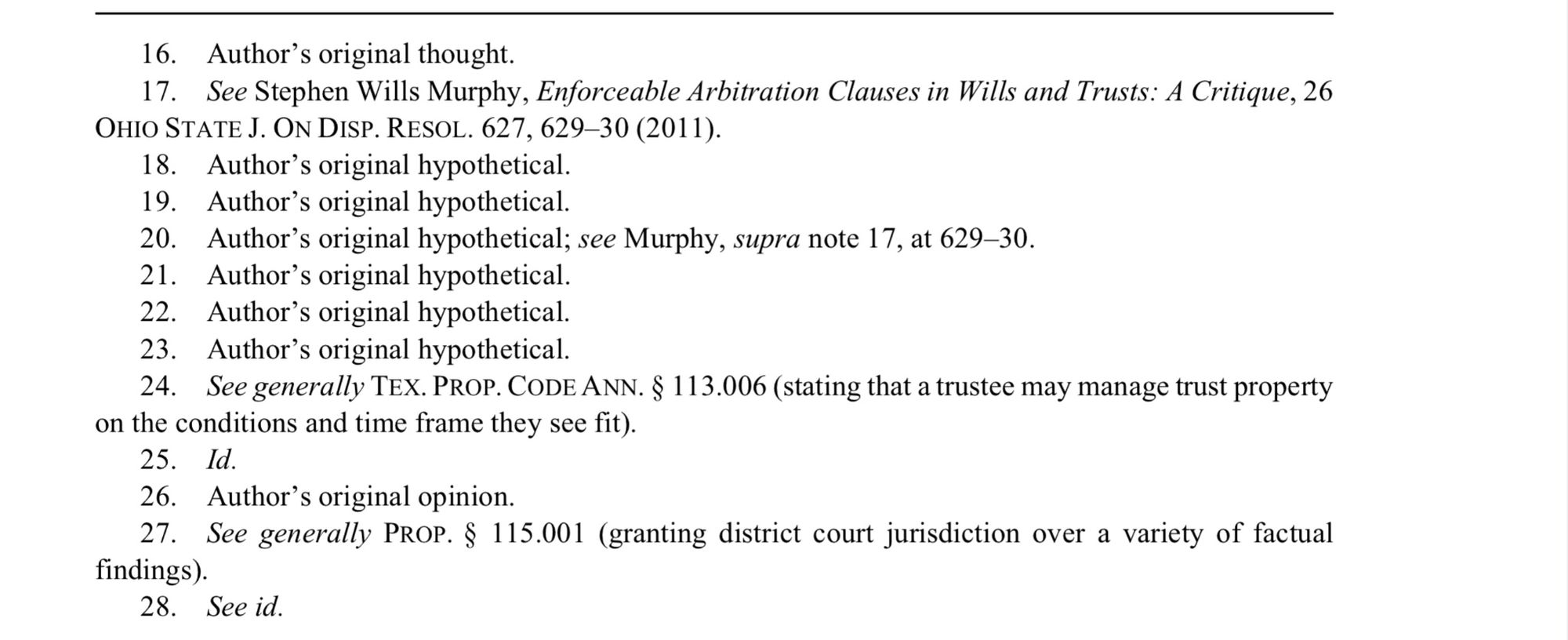 My blog post reminds me of the Saturday Night Live skit, More Cowbell; except, I could have used a little more footnotes:19
My blog post also reminds me of the children's book, 🔗More Bears!.20
---
Lawyer and writer. Husband, father of daughter, son, brother to one brother and two sisters, uncle to eight nieces and nephews, and great-uncle. Has two dogs and two cats. Loves technology and music.